On June 21-22, more than 8,500 designers, developers and product people gathered in San Francisco for a celebration of all things design at Figma's annual user conference, Config.
It was my first conference in four years and it was a wonderful, inspiring, overwhelming time. In this issue I want to share my takeaways with you both on what I learned there, and on the event itself.
The lowdown on Config 2023
I attended Config with my Design Life podcast cohost Femke (who was also speaking!) and with the entire ConvertKit design team (pictured below!).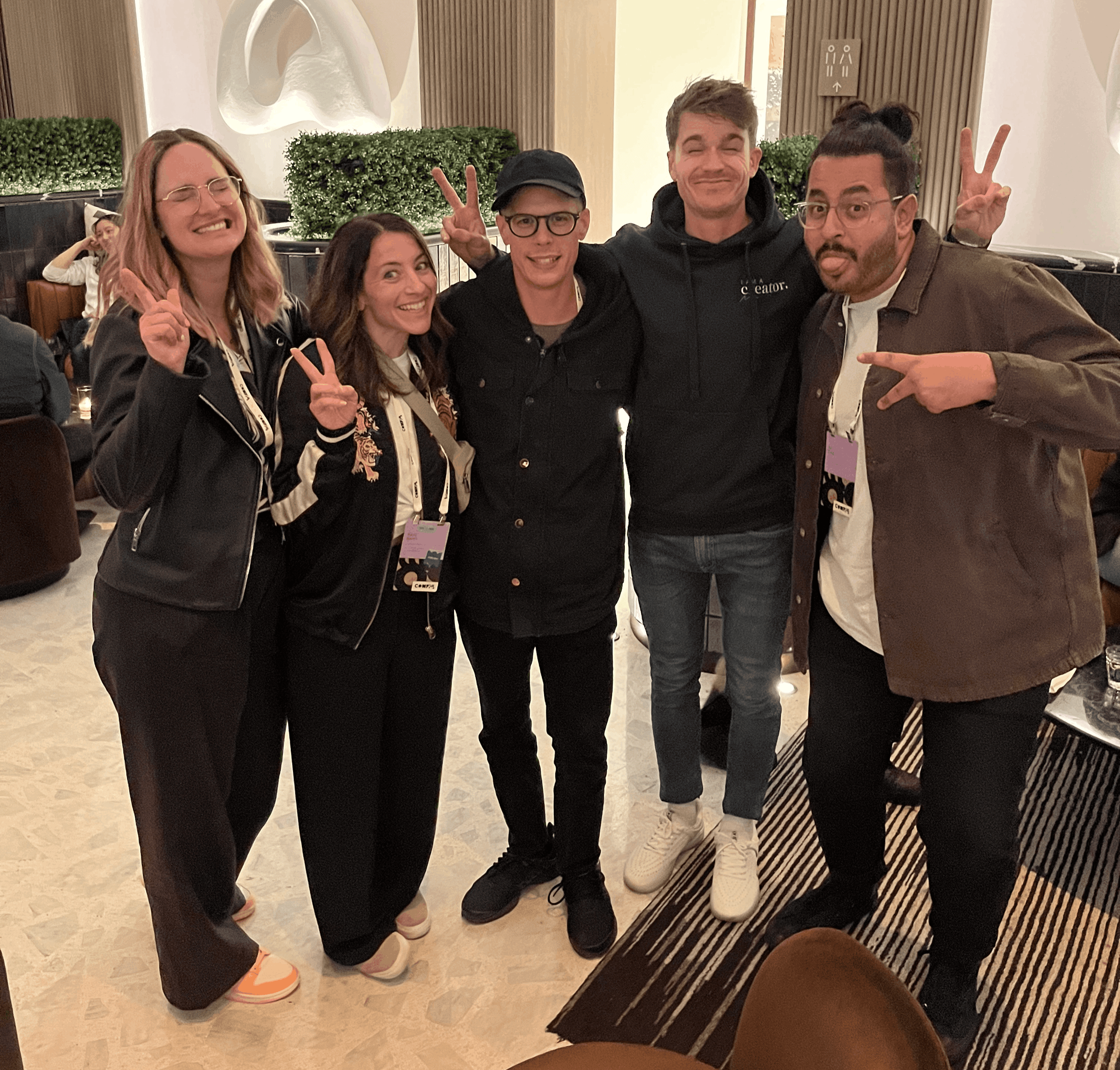 We're not an official 'team' in the org structure at ConvertKit, but we have been working on increasing the level of collaboration across brand and product design, and experiencing a conference together was so valuable.
I've learned from past conference experiences not to worry too much about making it to every talk, but to instead focus on having interesting conversations with folks, and that's definitely the attitude I approached Config with.
I loved getting to meet previous Inside Marketing Design guests like Johnnie, Austin, Jess and Stewart (who I didn't get a photo with).
And I also loved getting to meet a ton of people (like, WAY more than I was expecting) who watch my videos or listen to my podcast 😱 People would stop to say hi and introduce themselves when I was hanging out at the event and it was so rewarding to get to hear how my content had impacted them or helped them to advance in their careers. It was a great reminder of why I do this ❤️
Femke and I also hosted a meetup after the conference ended, and as we rounded the corner to the venue, this is what we saw:
That's right, a line that stretched down the street of people waiting for the event to start. We couldn't believe it!
Granted, a good chunk of folks were there because it was a free after-party (with free drinks thanks to our sponsors LottieFiles and Zeplin! 🙏) but as Fem and I stood at the doors and started letting people in, the large majority wanted to stop and chat and get a selfie together while telling us how much they appreciate our show and our videos. Wow. We stood outside meeting folks and talking photos for almost 2 hours.
I'll never be able to express to you how much that meant. If you were one of the folks I met that night: Thank you. That meetup was the highlight of my whole creator journey so far, without a doubt. ❤️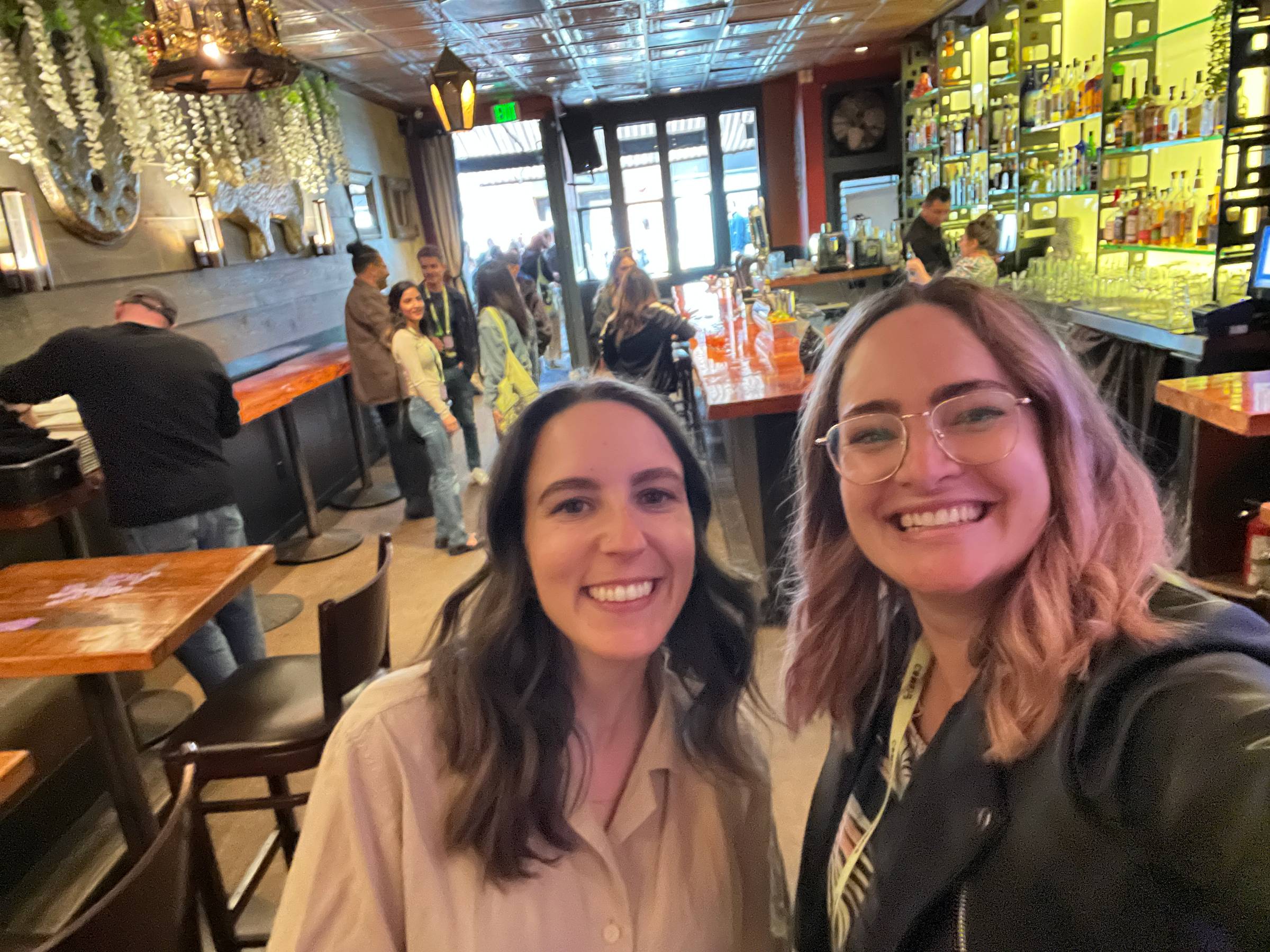 But that's enough about my personal experience, let's get into what I learned at the event!
The new features
The Figma team release new updates and features all year round, but they definitely used Config as a launchpad for some bigger updates and changes to our workflows, namely: variables, Dev Mode, auto layout updates and advanced prototyping.
I suggest you read Joey Banks' Everything new in Figma post for the details on all of these new features. He breaks them all down in a super understandable way which is especially useful for folks who get overwhelmed by big changes in a product (ahem, like me).
To be fair, there is a lot to be overwhelmed by here!
You can do a lot of incredibly technical things in Figma now. Someone even recreated Flappy Bird using the new variables and prototyping logic features 😱
Two thoughts struck me as I heard about all these new things live from this spot in the audience:
"Wow! this is so cool"

"Oh shit, there's so many features I have to learn"
Quickly followed by:
3. "We need to redo everything in our design system" 😅
What I'm telling myself about these new features, and what I want to pass on to you is that you do not have to learn everything straight away.
Figma is, after all, a tool that helps us brainstorm, express our ideas and document which of those ideas should be built. These new features are there to help us do those things better—at least, that's their intention. If dropping everything to learn the ins and outs of dev mode and convert your whole design system to use variables will get in the way of other projects and deadlines right now: don't worry about them. They'll be there ready for you to learn when the time is right.
What I took away from the event
Following the advice I gave in the previous issue about note-taking when attending a design conference, my takeaways are things that sparked a thought for me or inspired me.
1. Inspiration for event branding and crafting an experience
I feel like I wore so many different hats at Config. I was there as a designer to learn and improve my process. I was there as Creative Director of ConvertKit to network with my peers at other companies. I was there as a "design influencer" to meet people who watch/read/listen to my content. And I was there as a creative who works on an annual conference myself (Craft + Commerce!).
To that last 'hat', the event branding for Config was on 👏 point 👏. Figma's Creative Director, Damien Correll, posted a thread about the process the team went through to create it and highlights some details you may or may not have noticed. Go read it here.​
2. We should start thinking about how we'll brand and market a feature before it goes on the roadmap
Most of my notes from Config were from a fireside chat between AirBnB CEO Brian Chesky and Figma founder Dylan Field about changes AirBnB made to weather the pandemic.
Brian had some 🔥 takes in this talk, but this was the best take, imo:
"You can't build a product unless you know how you're going to talk about it."
I kicked off a conversation with the rest of the Growth Leadership team at ConvertKit this week about how we can get more involved with our product roadmap so that we're doing this better.
3. Sometimes you have to trust your gut
Another 🌶️ moment in Brian's talk was when he said:
"A/B testing is abdicating responsibility to the user"
As a big fan of A/B testing to learn what works better in a design, I felt challenged by this! But I understand his point: sometimes we can use testing as a crutch when we feel unable to make a decision ourselves.
I'm going to continue A/B testing (we have 2 tests running right now on the ConvertKit marketing site in fact!) but before I test I'm going to ask myself why I'm testing and check that it's not just because I don't want to make the decision, but because I truly want to learn (and use those learnings to inform future decisions)
4. You must actively pursue the things you want to create
My favourite talk of the event was Halli's keynote.
He spoke about navigating uncertainty, working through hard situations and "how to move forward when you have no idea which way forward is".
Halli has a genetic muscular dystrophy disease that has impacted his limbs, and his talk was both a celebration of the wonderful things he has done and created in his life as well as a wakeup call that we can't take health for granted.
At one point he played a piece of a new song he'd written, and getting to experience that in the room together was incredibly special.
There's so many things I want to do and create in life, and it's easy to put them off for 'someday'. Thanks to Halli I feel inspired to pursue them sooner than that, and to just do the damn thing.
5. AI will not take our jobs, it will enhance our abilities to express our ideas
I've never felt more truly optimistic about AI after hearing Noah Levin's perspective on it in the day two opening keynote. It was a talk that celebrated the human involvement in AI. While I've never worried about AI taking my job, I have worried about falling behind due to it, and this talk eased my fears and even got me feeling excited about what's to come with AI in our future!
6. I love what I do
Maybe the most important takeaway of all for me was that I truly love what I do. I'm in the exact right career for me. And even when it feels hard and stressful, I'm here because I honestly do love it. After feeling burned out for a while, I really needed to be reminded of that.
It was a joy to spend two days in a room surrounded by people who love it just as much as me, and to celebrate being huge design nerds together clapping about setting a border radius by a variable and other nerdy things 😅
My overall review of the event itself
Worth it. 100% worth it. Even with the jet lag. Even with the chaos of day one where talks were so popular that people queued for an hour only to not even make it in to the room.
I go to conferences for the value of being in person and building community, and Config just had so many opportunities for that to happen. I met so many designers I've followed online for years, and so many designers who have been following me online for years and I had great conversations with all of them. Figma has always prioritised community right from day one, and that value showed up in a big way at Config.
I'll be back, and if you're looking for an event where you're guaranteed to meet folks just as passionate about design as you – you should get a ticket next year too.
My real process for creating a campaign video
A few years ago if I'd wanted a motion graphic to accompany a campaign or for page on the ConvertKit website, I had to create it myself. These days as Creative Director (and with access to a few more resources!) I play a different role in the process.
I documented the creation of a video for our recent product launch campaign and shared it on YouTube so you can see what it's REALLY like to work on a campaign video as a collaboration.
​
This is the kind of process video I would have found SO useful to see earlier in my career (heck, even right now!) so I hope you enjoy it and get value from it.
Finally, I want to end with an apology: I've missed two weeks of sending this newsletter, and I'm sorry about that.
Being a creator and a Creative Director at a fast-paced tech company while also trying to be a healthy human isn't easy, especially when I try to excel at it all. Sometimes I get the balance wrong or need to put more time into one thing over the others.
I hope we're on the same page that me working full-time in tech and sharing what I'm learning and making in my job is a big part of what makes my content valuable – you're getting to learn from real-life projects and experiences rather than hypothetical best practices or made-up examples. I greatly value consistency and on delivering what you signed up for (your weekly does of marketing design inspiration!) and it'll always be what I aim for, but sometimes I just can't do it all, yaknow?
Thanks for your continued support. It seriously means a lot to me that you're reading this newsletter.
See you next week (actually, this time),